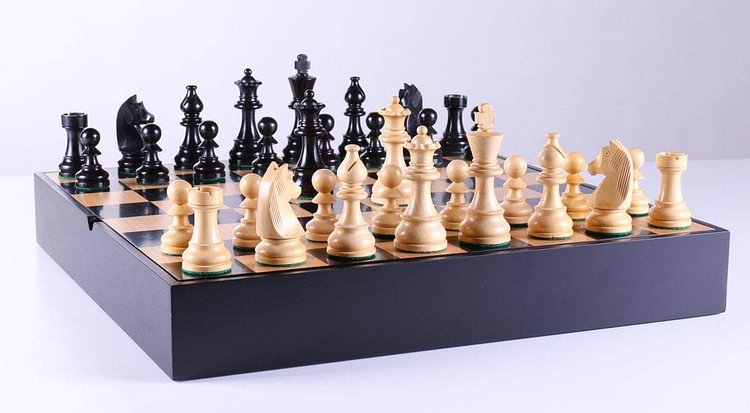 For those looking for a truly timeless set of chessmen on a A great set including storage for your pieces with hand carved pieces and a great looking storage board. The pieces come with an extra queen which can slide in one of the compartments if you double up on the rooks.
A fantastic set for all levels of play from starting out to experts. This "German" design is a timeless representation of simplicity. It has sold in the many 10's of thousands and remains to be a set of choice for the home and all kinds of casual chess play. With no sharp points to break, it can withstand years of chess play or study and if pieces are ever lost we make it easy to replace.
The style is also seen in the DGT Timeless pieces used on the E-Board line and which has seen competitive play at the highest levels.
Compliment 2" to 2.25" squares chess board or the one(s) play-tested shown, they look great on the 21" Sheesham Chess Board with 2" squares as shown. If you want a more economical option, the 19" Board with coordinates and 2" square is also a good fit.
Specs
King height: 3 7/8" (3.88" | 98mm)
King base: 1 3/8" (1.38" | 36mm)
King weight: 2.2 oz
Pieces Set Weight: 33 oz
34 Chessmen - Extra queens for pawn promotion
Green cloth felt bases
THE BOARD
16.25" Black and Maple veneer Chest - 2" squares. Wooden dividers under the board provide 32 total piece slots.
Specifications:
Chest measures 16.25" x 16.25" x 2.5"