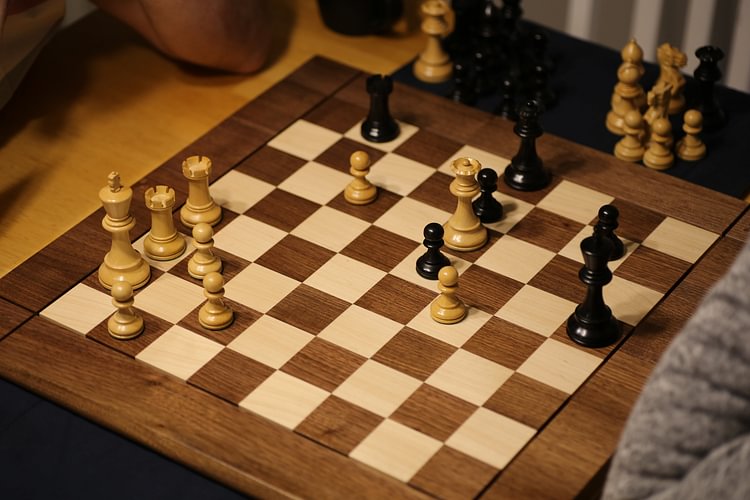 These Grandmaster chessmen truly combine finesse and function - elegance amid frequent chess matches. Each Heirloom chess set combines a true US handcrafted solid walnut and maple hardwood chessboard with a unique set of chess pieces to suit a wide variety of tastes.
Opening the Gift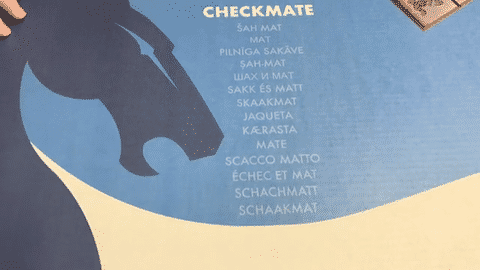 Viewing the Handcrafted Board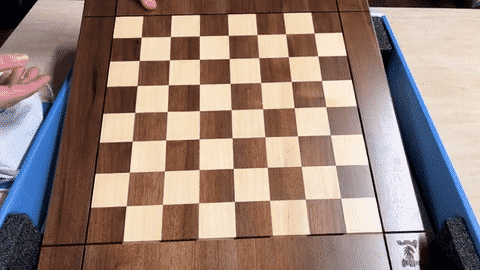 Setting up the Pieces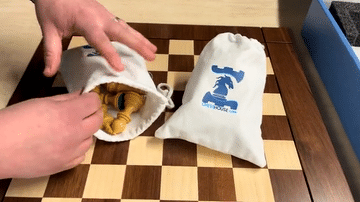 Playing the luxurious smooth board
Extra Queens and Storage Bags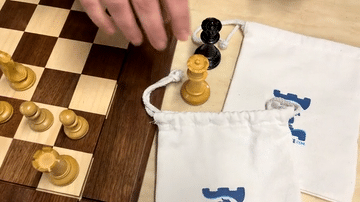 The full-size tournament style Grandmaster chessmen with 4" King are hand carved by master artisans from high grade woods. The pieces are heavily weighted for a superb chess playing experience and beautifully finished complete with a luxurious billiard felt base. The robust design can withstand rigorous chess games with no delicate points to break or chip.

The chessboard is handcrafted in Pennsylvania from locally sourced premium walnut and maple woods. The process of creating the boards takes many months, from the drying and curing of woods, to the special cutting and assembly process, to the final details that include grooves, beveled edge, engraving, and the multiple finishes that gives it the trademark luxurious and distinguishably smooth surface. Over many months, Raphael created this chessboard model inspired by Drueke's obsolete works. It has become a remarkable showpiece and platform for any set of chess pieces one owns that are suitably sized, usually 3 3/4" tall on average.

For display or frequent play, this heirloom quality chess set will be enjoyed for years and spare pieces are most likely available for many years should they ever be needed.

CHESS PIECES

4" King
1 3/4" Base
32 Pieces + 2 Extra queens for that occasional pawn promotion
Green felt bases
Ebonized Boxwood is created when Boxwood is specially stained to the black appearance similar to the desirable Ebony wood. This is ideal for those who like the black contrast at a reasonable price. The light pieces are finished in clear-stain Boxwood as with most sets of chess pieces.
Made in India
CHESS BOARD
Board size: 21"
Square size: 2"
Board thickness: 3/4"
Handcrafted in USA
Care Instructions:Avoid prolonged direct exposure to sunlight which can affect the color of finished woods. The chess board can be cleaned with a soft, non-abrasive cloth to remove dust. Due to the living nature of woods, with change in humidity the chessboard may warp ever so slightly for a time. This can be reversed by storing the board vertically for a time with equal exposure of air to both the surface and underside of the board.