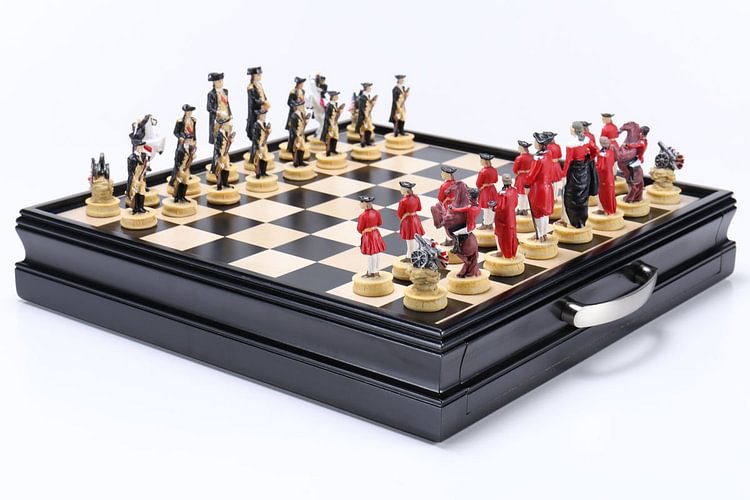 Experience the birth of the Republic or change history!  This epic period of American history can be remembered with this stylish historic theme chess set. 
Made of polystone resin, the pieces have a light-weight stone feel that is both economical to produce and perfect for such beautifully crafted pieces. The pieces are intricately hand-painted with lead-free paint.
The 15" storage chess set is a comfortable size for home presentation and play by casual players taking up the game for the first time or revisiting it after a while.
Specifications:
King height: 3 1/2" tall
Base size: 1 1/8"
King weight: .7 oz
Set weight: 1 lb. 4 oz.
Set weight: 2.5 pounds.
Board size 15"
Square size 1 5/8"
Sturdy, solid wood frame and real wooden veneer surface

The War for American Independence. Lexington and Concord. The Constitution of the United States. Patrick Henry. George Washington. King George. The original 13 Colonies. There are hundreds of things that come to mind with these words, yet above all it is the bravery shown to defend their homes and loved ones from the onslaught of the mightiest military machine then known in the world--the British Empire!

The British Empire, of which it was said that "The sun never sets on the British Empire" takes one side and faces off against the Colonial Americans. The Colonial Americans were a breed of people who loved freedom and were a mix of everything, from seamen to lawyers and doctors to farmers. Facing the British, they stood no chance on paper, yet the determination and cause they fought for easily made up the difference.

In trim red uniforms, fully outfitted, the British troops represent their 18th century nation in fine form. British 'regulars' form the advance guard of chess pawns, and higher ranking officers take the back row of chess pieces. The famous 'Union Jack' flutters next to a cannon--a weapon that gave the British a huge advantage early in the war, and was later used by both sides with great success.
The Colonials, in their characteristic blue and whites, show the determination that won them a nation and the respect of the world several centuries ago. The original 13-starred flag rests next to a cannon as the corner defender(Rook), and militiamen man the front ranks of chess pieces with their commanders and commander-in-chief proudly standing at attention behind them.