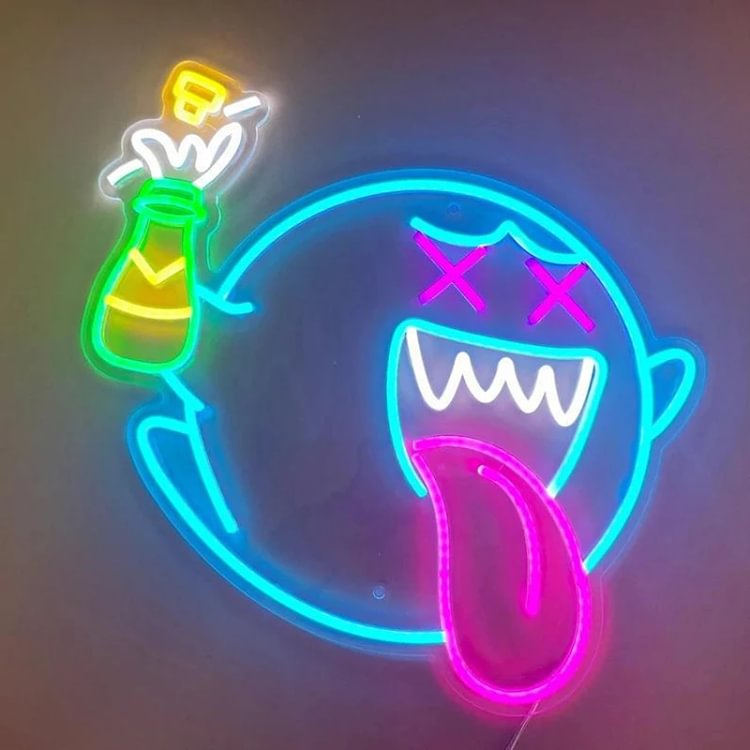 Welcome to the Neon Sign Amazing shop. If you are looking for neon signs that create the ultimate declaration in weddings, families, and business events, then do not hesitate, we handcraft and sell unique neon signs, all works are unique artworks. Every artwork is created with love and care. Let you spend the best moments in your life, perfectly displayed in your weddings, rooms, bars, pubs, restaurants, friends gatherings, etc., suitable for the right scene decoration and personal collection, the ultimate fashion atmosphere, will definitely be loved by friends and family Respect!
We have many years of experience in the field of neon sign products and have produced many signage wedding products. All you need to do is briefly describe your idea or send us a sketch, I will design and quote for you. Don't worry, our perfect presentation!

Features:
Neon is art. It is a combination of retro and modern. Suitable for single words, graphics, bright lights, full colors. LED neon lights are safe low voltage and look like traditional glass neon lights in appearance. But it can be bent into various shapes and characters more arbitrarily than traditional glass neon lights, which is more energy-saving, more durable and brighter. Widely used in wedding, birthday party, living room, bedroom, family, bar, cafe, night club, Christmas, event celebration decoration and other commercial activities. It is also the best gift for the family's anniversary, birthday or love witness!

Neon text symbol size:
1. The size varies according to the number of letters / symbols in the font and symbol you choose.
2. The minimum height of the letter single line is 10cm (3.9 inch), and the minimum height of the letter double line is 20cm (7.8 inch).
3. Please check the text size you ordered.

Neon colors:
1. White, warm white, pink, purple, rose red, ice blue, blue, green, lemon yellow, golden yellow, orange, red.
2. Please check whether our color card is valid.

Neon tube size:
1. 6mm, 8mm
2. Or contact us.

The ultimate handmade neon artwork:
-All logos, lights, lamps and artworks are original designs of the designers, handmade by professionals.
-Anti-collision, unbreakable, very sturdy.
-50,000 hours of replenishment.
-Power cord with switch 2M (6.5FT)
-Touchable low voltage 12 volt transformer for global use.
-Safety guarantee during transportation.
-Indoor waterproof (customized as outdoor waterproof)
-Warranty, letter logo warranty for 3 years, led chip warranty for 2 years. (Except for man-made damage)

Packaging includes:
Neon x 1, 110-240 volt transformer x 1, installation accessories x 1.

For enthusiasts who love warm light or neon decoration, it is so attractive that it can be fixed on the wall with screws, or it can be hung on frame, window or other eye-catching place with a chain. It is affordable and very portable, anyone can carry it. You can customize any text, logo, color and size according to your needs. When you really watch the customized artwork, you can bring an amazing experience. You will be proud of your collection!
Please try Neon Sign Beautiful, Please contact us before ordering!

Processing:
1. Usually we need 3-7 days to process the order, make and send it.
2. Free global delivery within 10 to 20 days.
3. You can provide 5-7 days of express delivery service as required, but you need to pay additional fees.

Refund policy:
1. Due to customized personalized reasons, we do not accept customized LED neon sign returns or refunds. If there is any problem, we will resend or send replacement parts. Please consider before ordering. Thank you for your understanding.
2. All our neon lights support customization. You can change the color, size and background as needed. Just contact us!

Important Notice:
1. To find the final price of the list, simply send a message through the dialogue in ETSY. Please do not place orders directly in the list price.
2. Our customers are responsible for any customs and import taxes that may apply. We are not responsible for delays caused by customs.

We are glad to create personalized signs for you, please contact us for any questions!