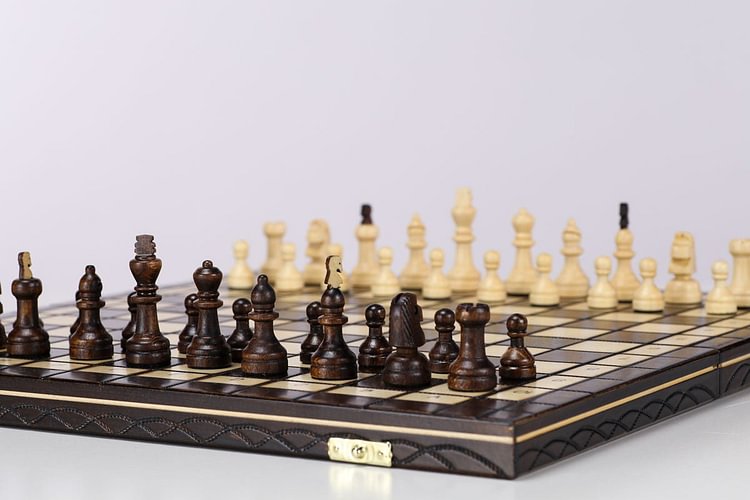 This variant of chess adds two special pieces to a 10x10 chess board!  It was designed a century ago by a world's top chess player.
In the 1920's World Chess Champion Jose Raul Capablanca believed that within a few decades from his time playing Chess the Grandmasters in the game would find themselves all on equal ground resulting in all their games ending in draws. To avoid this, Jose invented this variation on the age old game of Chess.
Capablanca devised his new variant with a 10 x 10 board instead of the regular 8 x 8. While his most recent design settled on a 10 x 8 board, this version is the earlier 10 x 10 playing field.
The additional space enabled two new pieces to join the force:
The Archbishop: a piece that combines the movements of a bishop and a knight
The Chancellor: a piece that combines the movements of a rook and a knight
With the two extra pieces per side comes two more pawns per side as well. The setup is similar to a regular game of chess except that the Archbishop is placed between the Queen's Knight and the Queen's Bishop, and the Chancellor between the King's Knight and the King's Bishop. With this new setup you will notice that the King will now be on a square that matches its own color and the Queen on her opposite color.
The King is allowed to castle, traveling an extra square to do so. The pawns in this game follow the same rules of promotion as a regular game of chess and can be promoted to Archbishop or Chancellor as well. Capablanca also allows pawns to move 3 spaces in their first move, rather than 2 normally. En passant is also possible whenever a pawn moves more than 1 square forward and ends adjacent to an opposing players pawn.
More on these two new players. As stated earlier, the Archbishop and the Chancellor combine the movements of a bishop and a knight or a rook and a knight, respectively. When moving the Archbishop you will be able to move in a diagonal movement as a regular bishop would, or you can move in an L pattern as a knight would.
When moving the Chancellor you can move on ranks and files just as a rook moves or you can choose to move in an L pattern as a knight would move.
It is important to note that the two movements of either the Archbishop or the Chancellor are not allowed to be combined, you must choose to move as a bishop or knight when moving the Archbishop or moving as a rook or a knight as a Chancellor but not both in one move. Another rule to remember when moving these special pieces is that only when moving as the knight will you be able to jump other pieces, if you choose to move as the bishop or rook you are not allowed to do so. A special benefit of the Archbishop to remember is that moving as a knight and than as a bishop will allow you to change the color of squares you can move diagonally on as the bishop in your next turn.

So... are you ready for an incredibly unique and exciting new chess experience? Are you up to the challenge? When you find yourself at a draw in one too many Chess games, grab this one and thank Capablanca for a new thrill!
Specifications:

Board

Board size: 16" x 16"
Board size when folded: 16" x 8" x 2"
Square size: 1 1/4"
Pieces
King size: 2 1/4"
King base: 3/4"
King weight: 0.2 oz
Pawn height: 1 1/8"
Checker pieces: 7/8"