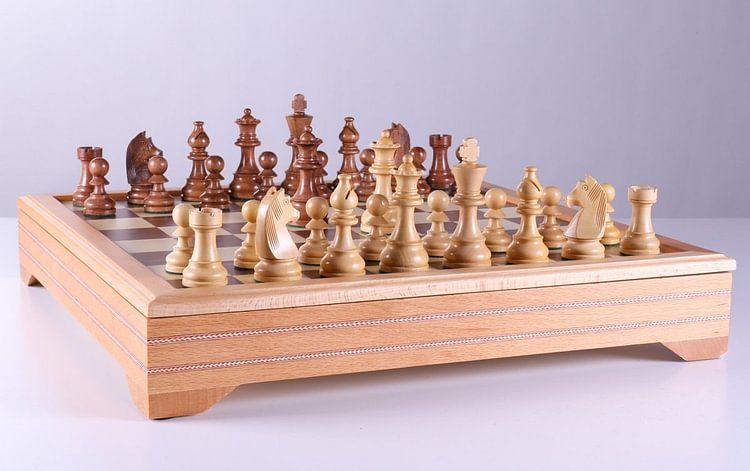 A great set including storage for your pieces with hand carved pieces and an in-lay board. The pieces come with an extra queen which can slide in one of the compartments if you double up on the rooks.
THE PIECES
This design is an exact reproduction of the traditional European pattern chessmen used at every major International chess event in the past 15 years. The list of tournaments that have used these Championship chessmen includes WorldChampionships, FIDE Olympiads, Linares, Dortmund, Wijk Aan Zee and many more.

You can now own the chessmen used by Champions. The pieces are heavily weighted for a superb chess playing experience and beautifully finished complete with a luxurious billiard felt base. The robust design can withstand rigorous chess games with no delicate points to break or chip.

Features and Specs
3 3/4" King
1 1/2" Base
2.2 oz King
43 oz set weight
32 Pieces + 2 Extra queens for that occasional pawn promotion
Green felt bases
Boxwood / Golden Rosewood
Made in India
THE BOARD
Convenient storage for your pieces beneath the chessboard is easy to access by removing the chessboard surface. Wood chess pieces from approximately 3.5" to 4.25" with a base of up to 1.75 will look great on this beech and maple chessboard. Wooden dividers under the board provide space for 32 total pieces.

Specifications:
Chest measures 18" x 18" x 3.25"
Square Size: 2"