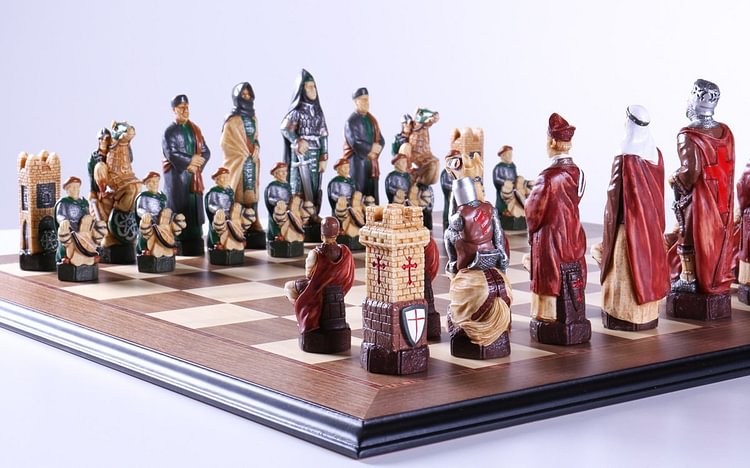 This is a magnificent chess set which epitomizes the struggles for domination between Christians and Muslims. This conflict has continued intermittently for over a thousand years, but it is the period between 1095 and 1292 which has captured our imagination because of the exploits of the Crusader knights.

Skillfully hand decorated, these pieces represent the Christian side led by King Richard I of England, known as Richard the Lionheart, in combat with the Muslim armies led by Saladin. This chess set concentrates particularly on the Third great Crusade led by King Richard I of England, who in 1189 joined King Philip II of France in an effort to recapture the holy city of Jerusalem. King Richard, with 8000 troops, seized Cyprus and some cities on the Palestinian coast, but ultimately failed to dislodge the Muslim leader, Saladin, from Jerusalem.

These chessmen are made out of Polyresin, which is a crushed stone composite. It has the look and feel of stone, but the durability of a plastic. It is truly the best of both worlds.
This walnut and maple chess board has a touch of elegance with black moulded edge and thin decorative border. Medium contrast works well with many wood chess men.
The playing surface and other surfaces are finished with high quality veneers and a special finish to enhance and protect the wood, giving the chess board a smooth matte finish and preventing glare. The board is manufactured in Spain with the same techniques used for high-end furniture.
Specifications:
King size: 5"
Base size: 1.3"
Board dimensions 21 5/8" x 21 5/8" x 1/2" (21.63")
Square size: 2 1/8" (2.13")