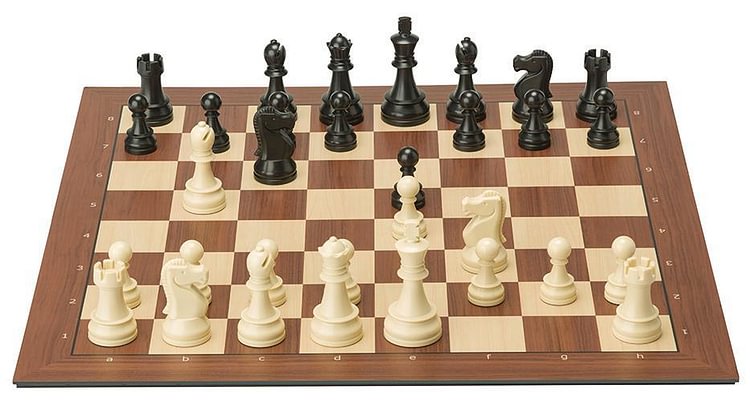 The DGT Smart Board brings the benefits of this classic electronic chess interface board to a wider audience by replacing wood with a plastic model. This set is complete with pieces and cabling. Accessories such as the DGT Pi or a DGT 3000 clock are available separately.
The innovative design has a wood print finish and a smaller footprint with a modern look. It's lightweight and thinner than the wood boards. The new board also scans faster and has improved energy efficiency. It is compatible with all current DGT pieces in both wood and plastic.
Smart Boards can be used in many different ways for home, club, or events. They interface with Windows OS (or DGT Pi which is sold separately).
Online Play - Play with opponents from around the world using Smart Board as your interface for move input on Playchess.com. Moves can be shown on a DGT3000 chess clock that connects to the Smart Board.
Record Games - Use the board to record your games for review and analysis at a later time
Computer Play and Training - Smart Board works with the best chess playing software programs on your Windows Based PC or laptop (not Mac unless using emulation software for Windows).
Chess Computer Opponent - Turn your Smart Board into a computer play machine by adding DGT Pi accessory. Automatically store the games played for publication or analysis purposes. For example, copy them to a database in Fritz by ChessBase.
Tournament Setup - the board is full compatible with existing wooden DGT e-Boards in a tournament environment
Live Internet Broadcasting - with new, free LiveChess Software that includes a free Cloud Service to broadcast your games you can share a tournament live via your website.
The board measures 52cm (20.5in) with tournament square size 55mm (2.16in)
Piece Specifications

King height: 3.75" (95 mm)
Base size: 1 11/16"  (42.5 mm)
King weight: 2.1 oz
34 Chessmen
Set weight: 38.4 oz
Includes Chess Board, Weighted Pieces, USB cable, DVD with drivers, DGT LiveChess software, ChessBase Fritz 14 chess play software, 100 days of PlayChess.com Premium.
IMPORTANT:  DOES NOT WORK WITH OSX, CHROME, OR LINUX OPERATING SYSTEMS