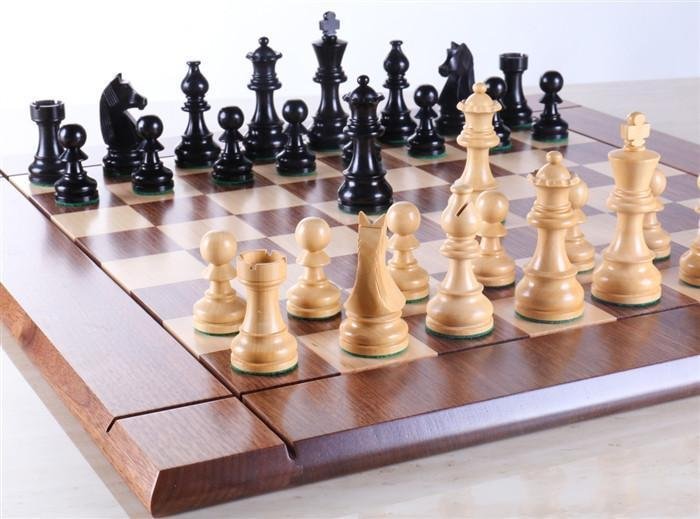 This heirloom chess set is a stunning game piece with unsurpassed craftsmanship that will be enjoyed for decades.
The USA handcrafted solid walnut and maple hardwood chessboard is paired with an amazing set of weighted Staunton chessmen.
In fact, the pieces are an exact reproduction of the traditional European pattern chessmen used at every major International chess event in the past 15 years. The list of tournaments that have used these Championship chessmen includes WorldChampionships, FIDE Olympiads, Linares, and many more.
You can now own the chessmen used by Champions. The pieces are heavily weighted for a superb chess playing experience and beautifully finished complete with a luxurious billiard felt base. The robust design can withstand rigorous chess games with no delicate points to break or chip.
The Chess House exclusive chessboard is handcrafted in Pennsylvania from locally sourced premium walnut and maple woods. The process of creating the boards takes many months, from the drying and curing of woods, to the special cutting and assembly process, to the final details that include grooves, beveled edge, engraving, and the multiple finishes that gives it the trademark luxurious and distinguishably smooth surface.
For display or frequent play, this heirloom quality chess set will be enjoyed for years and spare pieces are most likely available for many years should they ever be needed.
CHESS PIECES
3 3/4" King
1 1/2" Base
32 Pieces + 2 Extra queens for that occasional pawn promotion
Felt bases
Ebonized Boxwood is created when Boxwood is specially stained to the black appearance similar to the desirable Ebony wood. This is ideal for those who like the black contrast at a reasonable price. The light pieces are finished in clear-stain Boxwood as with most sets of chess pieces.
Made in India
CHESS BOARD
Board size: 21"
Square size: 2"
Board thickness: 3/4"
Handcrafted in USA
About the Artist:
John has a rich woodworking heritage in the state of Pennsylvania. Originally from Switzerland, the skills were passed down through five generations. This lost art of woodworking is continually refined, blending timeless methods with the latest knowledge of wood behavior. For example every design must be carefully planned with the appropriate wood selection and cuts to account for variations in humidity that cause natural expansion and contraction of wood. To craft a wood product that will last for generations, John gives great attention to every phase of production including wood selection, drying, cutting, curing, crafting, and the multi-step finishing process that results in the smooth, elegant, lustrous finish for which the JLP products are known. Every product is personally overseen by John and must meet his standards before releasing them to Chess House.