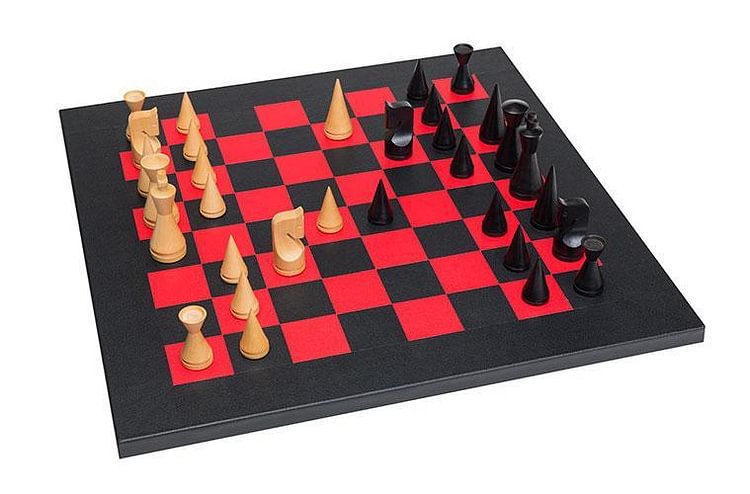 Limited Edition Leather e-Board set
Limited Edition leather e-Board set, only 50 made!
DGT celebrates its 25th anniversary with a very special version of the wireless e-Board. The Limited Edition DGT Bluetooth e-Board is covered in leather and is made by a master craftsman in Milan, Italy. The modern chess pieces are handmade by the best woodcarvers in India. The DGT3000 chess clock that completes the set is customized in a matching black and red color design.
Only 50 of these sets are made!
Each board is completely unique with its own serial number and Certificate of Authenticity.
The DGT Bluetooth e-Board connects to you PC using Bluetooth technology.
The plug & play electronic DGT chess board brings you the best of two worlds. The classical game of chess merged with 21st century computer and internet technology. USB connects to a PC and relieve your eyes from the computer screen. Enjoy the delightful wood chess board while playing one of many compatible chess software programs on your PC.
The DGT Electronic Chessboard (eboard) is an accurate and fast chess move input device for your computer.
Broadcast chess games over the Internet.
Ideal for tournament presentation.
Let the computer analyze games while playing a human opponent.
Automatically store games in the memory of the board while you play, and retrieve the games as PGN later
Official FIDE Tournament size squares (2.25 in x 2.25 in or 5.5 x 5.5 cm)
Modern, reliable sensor technology recognizes each piece accurately and fast. Each piece is identified by color and type. This gives you extra reliability in fast blitz games and makes setting up chess positions easy.
Internal memory (for 500 moves)
Driver CD included
Manual and Tech Specs
The DGT Electronic Board is supported by many programs, and new programs are added frequently. Popular programs include
TOMA: DGT Projects' professional chess tournament broadcasting software. Great for live tournament broadcasting, but also for publishing existing games.
World Chess Network: Play against internet opponents
ChessBase products: ChessBase, Rybka, Fritz, Hiarcs, Nimzo, Junior, etc.
Pocket Grandmaster 2.0: a fully featured and extremely strong award winning chess playing program for Pocket PCs running Pocket PC 2002+ or Windows CE 3.0+.
Arena (All versions) A GUI to play with many chess engines like Craft, GNUChess, LambChop and many, many more
Internet Chess Club: Play live online chess with BlitzIn
US Chess Live: Use US Chess Live Windows Version 4.0 to play on the game site, using the DGT board
Chess Assistant
ChessPad
Specs:
One Year Warranty
USB wired communication (3.5 meter mini-USB cable included)
24 hours full play rechargeable Li-Ion battery, rechargeable over USB cable to PC or main adapter
Three-color LED status indicator
Increased scanning speed (6 scans/second)
Firmware upgrade feature makes it easy to install future software enhancements and new functions.
Does not come with a computer, laptop or other wise