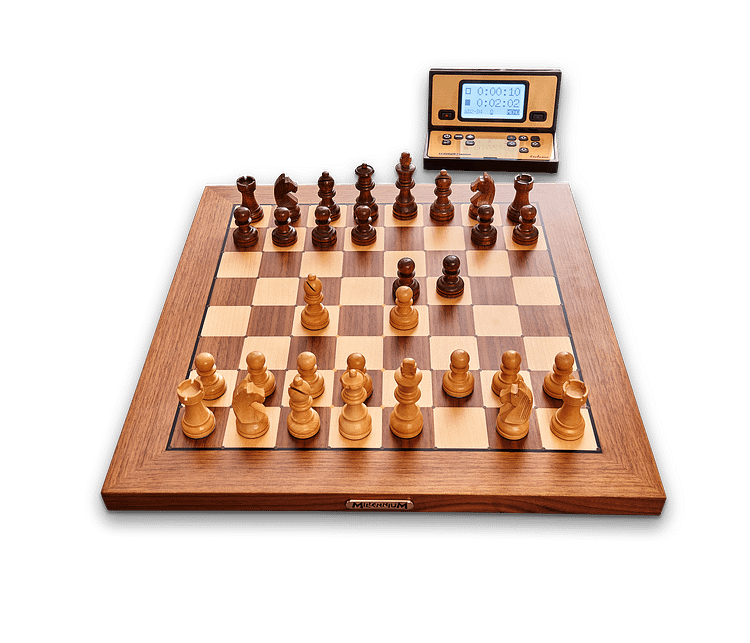 Chess Genius Exclusive is currently the most luxurious and affordable hands-on electronic board game - perfect for solo chess play. 
Concentrate purely on your game! Unique automatic chess piece recognition with lightning-fast RFID technology ensures a full natural playing experience.
The chess computer always knows which pieces is where. If a piece falls over, the square flashes. Switching your view between display and board is no longer necessary.
Playing strengths are nearly unlimited from beginner play to advanced tournament levels for skilled players. Exclusive is the ideal learning and training partner.
Built in opening moves libraries help you learn and practice opening moves from popular to gambit or unusual variations.
Modular design brings many years of pleasure playing chess. Connect add-ons like ChessLink to play online against other players all over the world or against engines on mobile devices.
Exclusive is engineered in Germany following many years of careful listening and discussion with avid players and computer enthusiasts. These people helped architect the ultimate hands-on chess game for the home.
For example, it was found that the most comfortable size chessboard (smaller than tournament and larger than portable sizes) would measure just under 16" (40cm) square. And it would be beautiful. The handmade, elegant wooden sensor-board is exactly that - attractive to display.
During game play, the eye must be able to stay on the board and not depend on glancing to the side. For this reasons, 81 LEDs clearly illuminate moves as you play them and as the computer beckons you to respond with its move.
The ideal chess computer doesn't require you to press down on the squares. That's why built-in, fully-automatic piece detection is achieved with new rapid-sensing technology.
The computer unit is located in a separate cabinet with a generously sized display. It offers numerous display options similar to the earlier world-class computers from Mephisto, and of course chess timing during a match.
The cable connection between the clock and board makes it possible to exchange the hardware module and make future software updates via USB.
Estimated tournament strength of the ChessGenius Exclusive range between 2350 and 2400 ELO which even surpasses the performance level of the legendary Mephisto world champion computers.
Thanks to this a new era of development in Munich, Germany, the Exclusive is being enjoyed by chess computer enthusiasts all over the world.
Play Online with Optional Add-on ChessLink Module. Using the ChessLink module and free apps, you can play online on Lichess and chess.com. For professional tournaments, you can use the tornelo.com platform. You play directly on the board - against millions of people around the world! Your opponent's moves are displayed with the LEDs on the board. Enjoy real gaming experience and concentration while playing online like never before.
Details

Board size approx: 15.75" x 15.75" x .78" (40 x 40 x 2 cm)
Square Size: 1.625'' (4.13 cm)
Hardware: ARM Cortex M7 / 300MHz / 2048 KB ROM / 384 KB RAM
Handcrafted wooden board with automatic rapid piece detection sensors
Display of chess moves: 81 single-field LED (each 4 per field)
Display in LCD: separate chess clock-module with very large display (73 x 39 mm), adjustable back-lighting and flexible display options (Chess clock, multi-line Info- displays, entire chess field)
Future expansion with software updates via USB-interface
Hardware module can be replaced entirely
Options for the USB interface: memorizing of parties, optional download of opening libraries, firmware- updates or engines
Power supply and connection with adapters for international sockets
Programmed by Richard Lang, based on popular world-champion programs
Playing strength > 2300 ELO (tournament level)
Various playing levels suitable for advanced players, very good club- and tournament players up to international tournament levels
Levels - challenging; fun (computer blunders); easy (limit of the calculated positions); speed; tournament with or without Fischer-clock, etc
CPU speed: 50-300 MHz adjustable
Opening library range between Classic London Book (57,000 Positions) such as the new Master Book (>300,000 Positions) by M. Uniacke
Menu: cursor-guided display with 5 lines, plus scrolling
7 languages (it can default to German on first play, so watch prompts carefully to choose desired language, especially if English)
2 player mode play and analyzing
Chess trainer includes extensive warning and help functions.
Specification
King Height: 3.0'' inch / 7.62 cm
King Weight: 5 oz (unweighted)
King Base Diameter: 1.0'' inch / 2.54 cm
Set weight: 11.3 oz
34 Chess Pieces, including extra queens
Paper Felted bottoms
Many extensive features
Display of hint moves, position evaluation and main variant, permanent brain calculations, move number, depth of the calculation and the number of calculated shifts
Various playing modes
Position control with board display
Analyzing mode with many options
Auto- playing mode
Alternative variation moves
Settings for display contrast, reverse board, calculator speed, position of chess clock left or right, and more
Included in Box
Wooden sensory chessboard
Wooden chessmen
Chess computer module
Power supply with adapters EU/GB/US (240V / 110V)
Connection cables
Printed Manual. See also Manual Download (PDF)