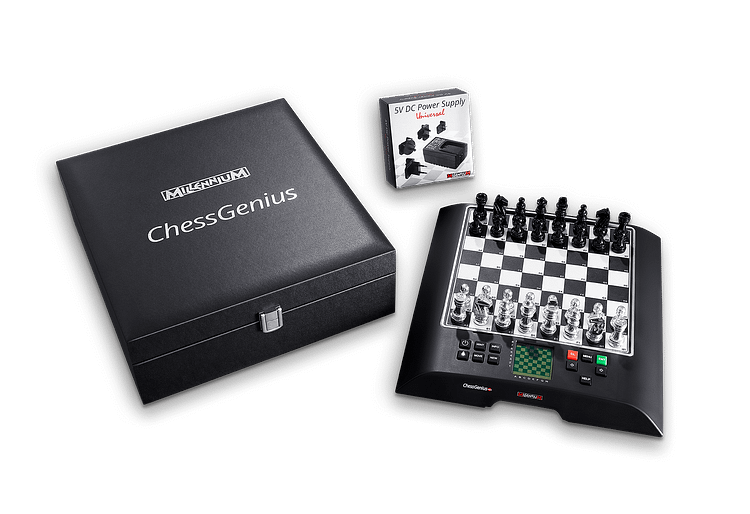 The Millennium Chess Genius Pro is the ideal chess computer for players of all ages and and skill levels. It's one of the most powerful chess computers of all time, featuring the world-champion software ChessGenius by Richard Lang!
The Special Edition adds a special touch with a beautiful storage box for a great  presentation both on arrival and for your enjoyment through the years. It includes the adapter and everything needed to play chess with a modern chess playing engine inside a classic board.
Improve your chess and be challenged at your playing level with the chess computer built on the famous chess engine ChessGenius by Richard Lang.
The Chess Genius PRO version offers and enhanced and more elegant design, faster processor, and lightning fast response times at all levels. Keep your mind active with endless chess enjoyment.
Portable and convenient 11" size makes the chess computer easy to take along on travels with AA Batteries (not included) and power saving mode. Included, however, is the AC adapter for play at home or elsewhere.
Make moves by pressing lightly on the squares thanks to MILLENNIUM unique HighSensitive technology. Lighted LCD screen shows chess moves, current position, and menus.
Set play strength from wide range of play levels suitable for beginners starting out to master level players. Take back moves or see suggestion for better moves.
Genius Pro plays at a significantly higher skill level of more than 2200 ELO (2400 USCF). The changes in the PRO are visual as well, new pieces in an exclusive white and black chrome, along with felt and significantly improved sensor board and pressure point. 
Hardware Improvements:
Significantly improved sensor board with smooth-running pressure point
5x faster processor
5x more RAM memory
Automatic power supply detection-connected power supply switches off the sleep mode during 24 hours for long term analyzing
Software Improvements:
Three different options for Openings:

No opening book, computer calculates by itself
"Classic London Book" of 57,000 positions (3x larger)
"Modern Book" with over 100,000 positions completely new library of modern opening variations by HIARCS.

Improved sleep mode with extended wake cycles
Display of move numbers in INFO mode
New "Mate in X" feature for problem solving
Overall, the Pro is a significant performance improvement, an ideal choice for improving, regular, or ambitious players. The playing algorithms and therefore playing style is adjusted and enhanced.
Playing levels and playing difficulty:
Countless levels especially for beginners
Virtually unlimited number of levels of difficulty
Includes demanding tournament levels suitable for skilled players
Average time per move
Max overall duration of game
Special "Mate in X" stage for problem solving
Shows suggested moves (best, second, third best etc. moves given position)
Especially for chess experts
Choice of 2 libraries of opening moves: the "Classic London Book", with approximately 57,000 positions, and the "Modern Book", with more than 100,000 positions
Versatile analysis mode (text displays and chessboard display)
Display analysis of positions, main variants and move number
Enter any chess position
Especially for novices
Chess trainer: Warns about bad moves, offers to take them back
Makes suggestions for improvement to help make better moves
Help function: Shows all permitted moves
Features and ease of use
Convenient menu system makes it easy to adjust system settings
Large back-lit display: shows the entire chessboard, plus help text and menu system text
Extra-large chessboard: 20 x 20 cm (7.9 x 7.9 in) playing area
Multilingual user interface
Different match modes: Player vs. computer, player vs. player etc.
Improved energy saving mode with longer active times
Power port for AC adapter
Automatic power supply detection to switch off the power-saving mode in network operation
Technical data:
Processor: ARM Cortex M4 / 120 MHz, RAM: 160 KB
Chessboard: Pressure sensor board, magnetic
Display: Back-lit chessboard display
Menu operation: 7 languages, text-based
Languages: GB / DE / FR / NL / ES / IT / RU
Software: Original CHESS GENIUS
Power supply: 3 x AA alkaline batteries - BATTERIES NOT INCLUDED

Power with included Adapter
Dimensions: approx. 30 x 27.5 x 3 cm
Chessboard dimensions: 20 x 20 cm (7.8" x 7.8")
Display Dimensions:  3.8 x 4.5 cm (1 1/2 x 1 3/4")
King height: 1 7/8"
King base: 5/8"
Box dimensions: 11.5" W x 12.5" L x 4" H