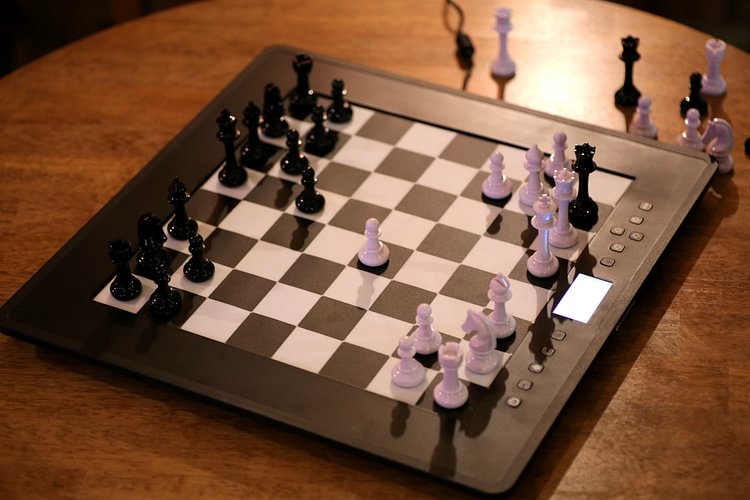 The modern design King COMPETITION is a perfect chess computer for playing at home. It's built with the legendary "King" program by Johan de Koning.
It's ideal for all ages and levels!
Comfortable size 17.2" square board lights up to display each move that you play on a smooth pressure sensor technology.

Play either classic chess or the popular Chess960 variant according to the official FIDE rules.
Four adaptive game levels adjust to your abilities! On the entry level, even novices have fun playing the computer when it is easy to defeat. ELO levels give an estimate of your own rating.
The King is stronger than the Chess Genius with an estimated 2450 ELO. With this chess computer you play like a king!
The menu system can be set to comfort (easy) or expert mode to find your way around the extensive feature set.
The brightness of LED move display lights can be adjusted perfectly to your needs.
We've also reviewed the King Performance in this blog post.

Play Chess Online with Optional ChessLink Add-on Module

Using the ChessLink and free apps, you can play online on LiChess and Chess.com. Play directly on the board against millions of people around the world! Your opponents moves are displayed with the LEDs on the board. Enjoy real gaming experience and concentration while playing online like never before. For professional tournaments, you can use the tornelo.com platform. 
| | |
| --- | --- |
| Playing strength | For early beginners up to > 2500 ELO (according to SSDF) |
| Chess pieces included | Yes, chess pieces with felt and weights |
| Additional Pieces | 2 additional queens included |
| Magnetic Pieces | No |
| Pieces Compartment | bag for the storage of the game pieces included |
| Measurements of chess board | 12.6 x 12.6 inches |
| Size per square | 1.57 x 1.57 inches (4cm) |
| King's height | 2.83 inches (7.18 cm) |
Hardware

Chess board technology

Pressure Sensor Board, Millennium HighSensity Technology

Illuminated display

Yes, multi-stage dimmable, can be switched off, 2.13 x 1.06 inches

Processor

ARM Cortex M7, 300 MHz Processor

CPU clock speed

adjustable from 10 - 300 MHz

RAM

384 KB

Connection to ChessLink

Standard Mini-Din cable, 4-pin, cable included
Software

Program

The King, 2020 2.61/1.40 

Author

Johan de Koning

Current software

2021

Units languages

7 (DE / GB / FR / NL / ES / IT / RU)

Menu system

Text-based / Graphical, all device languages

Able to upgrade

Yes, via USB
Play online

Necessary accessories

ChessLink Modul M822

Required App

ChessLink App for Lichess; chess.com Android App

Compatible mobile devices

Android devices from Android 6.0 with Bluetooth BLE; iOS devices; Tornelo via Windows PC

Supported servers

lichess.org, chess.com, tornelo.com
Power Supply

Batteries required

No

Power Supply

100 - 240V 50/60 Hz Input - 9V 1A Output

Power supply included

Yes, with interchangeable heads for EU / UK / US / AUS
Measurements & Weights

Measurements of product

17.2 x 17.2 x 1.1 inches

Lenght of ChessLink cable

39.37 inches

Product weight

2.62 KG

Measurement of gift box

17.7 x 19.7 x 2.9 cm
Model number & age recommendation

Model Number

M831

Age recommended by manufacturer

6 Years & Up
Manuals: