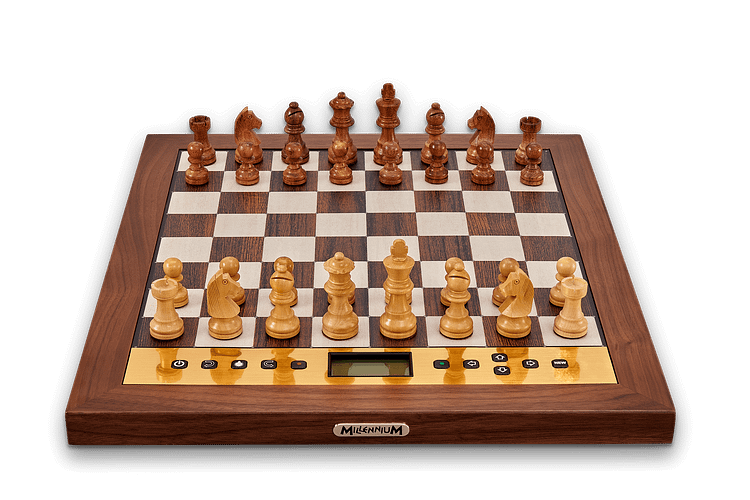 The King Performance offers great aesthetics with a real wooden frame, wooden pieces and 81 LED on board move display. Inside is the legendary software The King by Johan de Koning.
With a size approximate 15 x 17 inches, the real wooden frame, pieces, on board display and the powerful processor of the Exclusive, it offers amazing Performance. 
PLAY AND IMPROVE at chess with this classic, harmonious design, perfect for home. The moves are displayed on the board with 81 LEDs. Make your moves by pressing the squares and enjoy the game for hours!
TAKE IT ALONG by adding ChessVolt Powerpack option available separately.
ADD VARIETY with unique Chess 960 Variant. Enjoy an extremely wide range of playing levels and styles to experiment and discover. Expansive Opening Move Library from Hiarcs provides a very broad and modern play approach guaranteeing variety in opening moves.
HUMAN LIKE Play in a way that feels like you are challenging a friend! The King software is an extremely active, risk-taking and often downright spectacular style for interesting games. The function for saving different opponent personalities allows you to configure your own "personal king" step by step.
EASY/COMFORT MODE for players new to chess provides the most common options and levels in an easy-to-follow menu. EXPERT MODE offers all the advanced features that King Performance offers.
FUTURE PROOF with updates via USB so you can enjoy the benefits of future upgrades.
ONLY PLAY READY with optional ChessLink add-on module for King Performance lets you connect to play others around the world or play other chess engines on mobile devices.

In addition to Johan de Koning's engine known from the King Element, the Chess960 variant was implemented for the first time.  
The King is stronger than the Chess Genius with an estimated 2450 ELO. With this chess computer you play like a king!
New features in latest update version 2.61/1.40
With the free update, King Performance becomes even more versatile: now offering 4 adaptive game levels that correspond to your abilities. On the entry level "Play & Win" even newcomers to chess have fun playing with the computer, here it is easy to defeat. In addition, there are the new ELO levels, where you get an approximate estimation of your own rating. From now on the computer allows you to save up to 9 games. Also it is now able to give up the game or offer a draw. The new division of the menu system into a comfort mode and an expert mode is helpful to find your way easily through the extensive functional equipment. A further feature: the brightness of the LEDs can now be set to your liking.
Play Online with Optional Add-on ChessLink Module. 
Using the ChessLink module and free apps, you can play online on Lichess and chess.com. For professional tournaments, you can use the tornelo.com platform. You play directly on the board - against millions of people around the world! Your opponent's moves are displayed with the LEDs on the board. Enjoy real gaming experience and concentration while playing online like never before.
Details
Real wood housing (border only) with illuminated display (54 x 27mm). Playing surface is faux wood (plastic for pressure sensitive board).  

7 different user books included

Chess960 (Fischer Random Chess) according to official FIDE rules
Included connection to the ChessLink module for using chess apps (on numerous external devices)
Selection of different opening books: Classic Aegon Book, the Master Book (with over 300,000 positions) by Mark Uniacke, or special User Books
Storage of games as well as optional download of opening libraries or firmware updates
Configure up to 3 "player personalities" and play like against real chess grandmasters
Infinite number of difficulty levels, variably adjustable from beginner to international grandmaster
Specifications
Dimensions:

39 x 43.5 x 2.6 cm

 (15 3/8 x 17 1/8 x 1 inches)
Square Size:  4 cm (1.57 inches)
King height: 7.4 cm (3 inches)
Menu operation: 7 language settings available
Connections: USB, DIN, main adapter (9v DC)
Processor: ARM Cortex M7 with 300 MHz, 2048 KB ROM, 348 KB RAM
Program: The King by Johan de Koning
Manuals
Optional Chess Volt Add-On
This battery pack provides that portable power source while you're camping or simply in the back yard. The ChessVolt guarantees many hours of playtime regardless of the power grid. Simply connect your chess computer with the supplied cable. 
To include with your purchase, Check the Box in Accessories above Add to Cart. Or visit the Chess Volt product page.