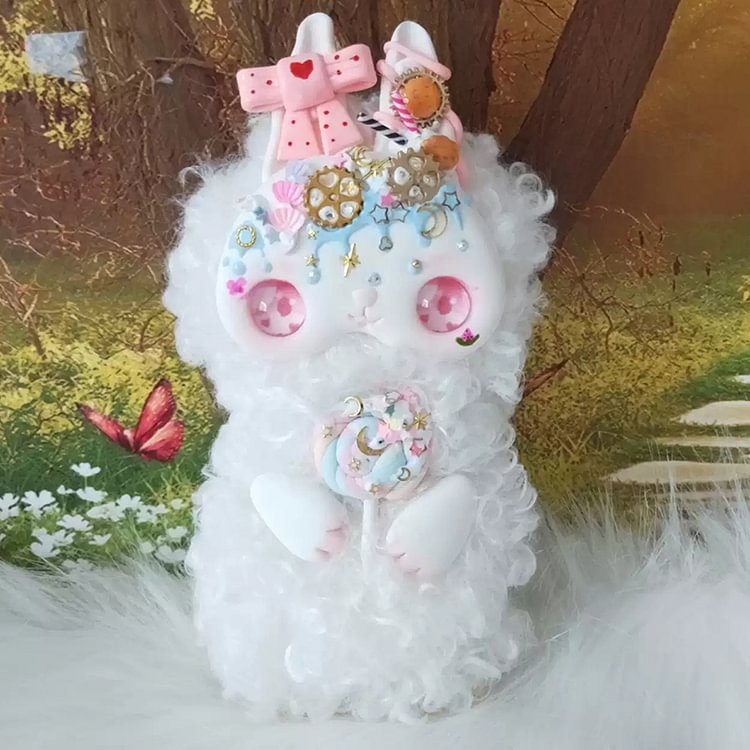 I am keen to design my own fantasy creatures and turn them into a puppet or a toy in real life to satisfy my curious fantasy about the world.
Name:Lollipop Princess Rabbit
Size: about 18 cm
Lovely rabbits who like to eat lollipops, beautiful princesses with beautiful bows, stars and shells on their heads, princesses are cute and kind. She treats the people around him very well, and is respected and loved by the entire king's people.
There is always a person who likes to tie up pigtails, like to pick beautiful flowers and put them on his head, or give them to others. Others call her the Flower Rabbit

Material: soft pottery + plush cloth + sewing process + cotton filling

Mysterious creatures Fantasy creatures are my own original hand-made, more creative and unique, the products are all my own real pictures, please place an order directly if you like it, it is very suitable for her as a gift, please pay attention to my store to check the latest styles , I will update the product from time to time

You are welcome to communicate with me at any time for detailed product information, we will reply to your information in time
Note: Do not wash, do not play violently! Can be cleaned with a dry cloth
products are purely handmade, and occasionally there are slight traces of handwork, please be aware