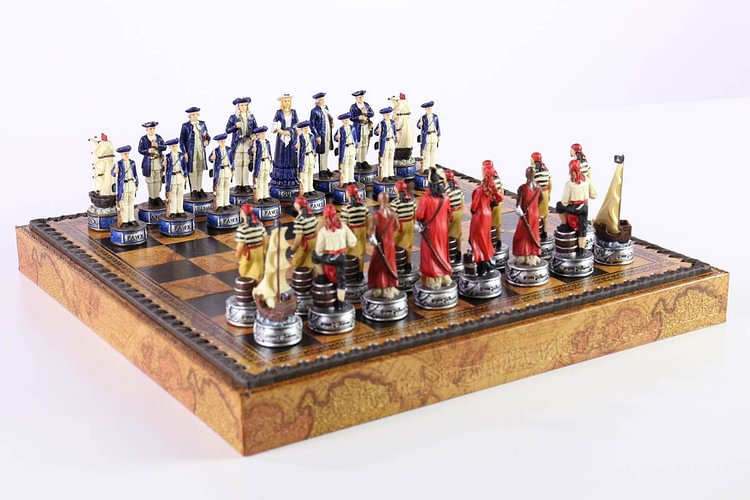 Join lots with the Pirates or fight as part of the Royal Navy in this intricately painted theme set on Italian 13 3/4" 
Leatherette Cabinet Chess Storage Board
.  Gold and black colors with navigational map overlay provides a perfect background board to bring the gold fueled battles of the pirate age to life. The tooling wrap around the edges of the chessboard also adds a nice decorative flourish. 
These beautifully hand painted and durable resin pieces will keep you entertained for years to come.  With theme sets, piece type can be hard to figure out; however this set provides piece names on the base, so you don't have to guess! 
IMPORTANT NOTE:  The Pirate Pawns do not fit perfectly in the slots (see photo); This does not interfere with the board or storage. 
Specifications:
Pieces
King height: 3 1/4"
King base: 1"
King weight: 1.2 oz.
Set weight: 28.4 oz.
Only one queen per side
Hand painted resin, 32 pieces
Board
Total box size: 13 3/4"
Board size: 13"

Squares: 1 3/8"
Height: 1 5/8"

Interior compartments: 

16 x 3 1/4" x 1"
16 x 2 1/2" x 1"