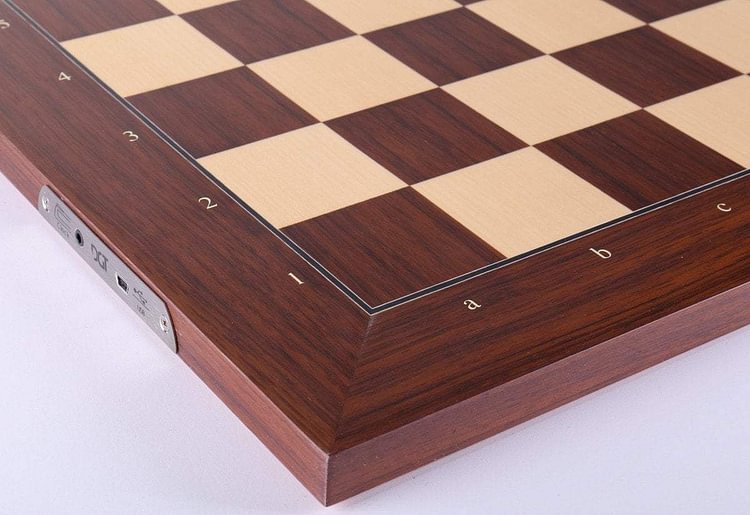 The DGT Bluetooth e-Board connects to you PC using Bluetooth technology. This wireless Bluetooth e-Board is available in several wood options.  Rosewood offers indices around the edge of the board while the Walnut Option does not. Choose any of the five available electronic DGT chess pieces sets to play.
The plug & play electronic DGT chess board brings you the best of two worlds. The classical game of chess on a traditional wooden board finally merged with 21st century computer and internet technology. USB connects this elegant inlaid wood electronic chessboard to a PC and relieve your eyes from the computer screen. Enjoy the delightful wood chess board while playing one of many compatible chess software programs on your PC.
This elegant chessboard is made in Holland and Spain, and brings advanced technology to your home to maximize your PC chess playing experience.
The DGT Electronic Chessboard (eboard) is an accurate and fast chess move input device for your computer.
Broadcast chess games over the Internet.
Ideal for tournament presentation.
Let the computer analyze games while playing a human opponent.
Automatically store games in the memory of the board while you play, and retrieve the games as PGN later
Beautifully-inlaid wood board with official FIDE Tournament size squares (2.25 in x 2.25 in or 5.5 x 5.5 cm)
Chessboard only .75 in or 1.8cm thick, the same as a normal chessboard
Five different Staunton Wooden Chess Pieces available, each with a king height of 3.75 in or 95mm and extra queens.
Modern, reliable sensor technology recognizes each piece accurately and fast. Each piece is identified by color and type. This gives you extra reliability in fast blitz games and makes setting up chess positions easy.
Internal memory (for 500 moves)
Driver CD included
Connect to a DGT clock (see accessories)
Store board, pieces, clock and accessories, in a fitted DGT carrying case (see case accessory)
Manual and Tech Specs
The DGT Electronic Board is supported by many programs, and new programs are added frequently. Popular programs include
TOMA: DGT Projects' professional chess tournament broadcasting software. Great for live tournament broadcasting, but also for publishing existing games.
World Chess Network: Play against internet opponents
ChessBase products: ChessBase, Rybka, Fritz, Hiarcs, Nimzo, Junior, etc.
Pocket Grandmaster 2.0: a fully featured and extremely strong award winning chess playing program for Pocket PCs running Pocket PC 2002+ or Windows CE 3.0+.
Arena (All versions) A GUI to play with many chess engines like Craft, GNUChess, LambChop and many, many more
Internet Chess Club: Play live online chess with BlitzIn
US Chess Live: Use US Chess Live Windows Version 4.0 to play on the game site, using the DGT board
Chess Assistant
ChessPad
Specs:
Two Year Warranty
USB wired communication (3.5 meter mini-USB cable included)
24 hours full play rechargeable Li-Ion battery, rechargeable over USB cable to PC or main adapter
Three-color LED status indicator
Increased scanning speed (6 scans/second)
Firmware upgrade feature makes it easy to install future software enhancements and new functions.
Board size: 21 1/4"
Square size: 2 1/8"
Board thickness: 3/4"
Board weight: 133.3 oz
USB cord length: 3 meters or 9.8 feet

NOTE: Only Rosewood boards have notations. Walnut/Maple board does NOT have notations

Does not come with a computer, laptop or other wise