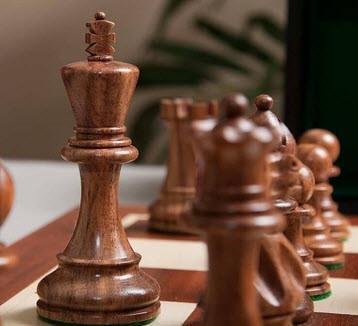 A full tournament-sized Chess set, the Grandmaster Chess Set and Board Combination features a 4.0" King. The Chess pieces are hand carved by master artisans and crafted out of the highest grade woods. The Chess pieces are heavily weighted with luxurious billiard cloth base pads and a beautiful finish. The set features a very robust design with thick collars and no delicate details to chip or break during hard usage. This is unquestionably the most robust Wooden set of chessmen for tournament and blitz play you can buy!
The Grandmaster Series Chessmen exemplifies a perfect combination of distinct beauty and functionality. It has been designed to withstand the rigors of practical play while maintaining an elegant presence.
THE CHESSMEN
King Size: 4"
King Weight: Depends on the selected wood. (2.7 oz, Golden Rosewood)
Base Size: 1 5/8 (1.63")
Pawn size: 1 13/16 (1.81")
Includes extra queens
Green felt bases
Also known as faux Ebony, Ebonized Boxwood is created when Boxwood is treated with a specialized stain to create the look of Ebony. When done properly, it can be difficult to distinguish between an ebonized and ebony piece when brand new. It is perfect for those who want the classical look of a Genuine Ebony Chess set at an affordable price.
THE CHESSBOARD
The Wooden Tournament Mahogany / Maple Chessboard is 21 1/4" with 2.25" Squares features Mahogany (dark) and Maple (light) squares with a Mahogany frame. This Chessboard is 0.5" thick and has a satin finish. Has felt pads at each corner to slightly elevate board from surface and protect from scratches.
THE CHESSBOX
The Mahogany Slide Top Box is lined in green velour, divided and is ideal for a full tournament-sized set of Chessmen.