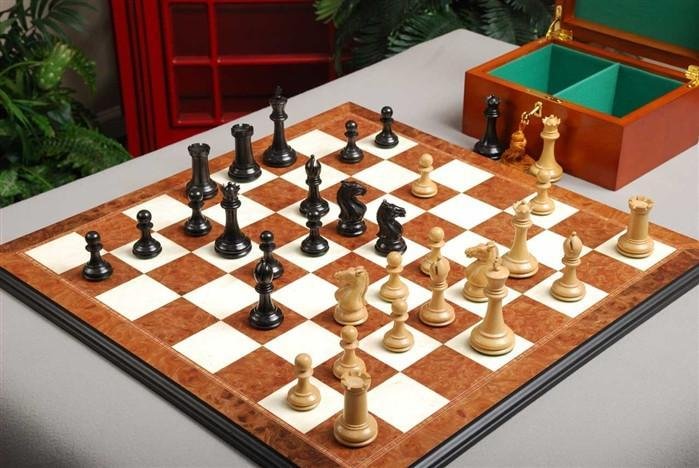 This heirloom-quality Chess set features a 4.0" King with a 1.875" diameter base and is heavily weighted. The Chess pieces are hand carved by master artisans and crafted out of boxwood and genuine ebony. The Chess pieces are heavily weighted with gold embossed English Leather base pads under the Kings, luxurious billiard cloth base pads on the other Chess pieces. The design of the Hastings Series Chess set combined the form, broad bases, board presence and craftsmanship of the Staunton Pattern Chess sets of the time period with an original Knight that was designed by the Maestro, Frank A. Camaratta, Jr. The Knight design reflects the adage that Chess is War, resulting in a truly ferocious beast ready to do battle on the Chess board. The Knight has attitude and is one of the Maestro's proudest creations.
As with all House of Staunton Chess sets, the Hastings Series exemplifies a perfect combination of distinct beauty and functionality. It has been designed to withstand the rigors of practical play while maintaining an elegance which has become the hallmark of a House of Staunton chess set. The design, quality and craftsmanship of this set is UNMATCHED by any set of Chessmen in its price range. Nothing even comes close!
The Chessmen are new and each set consists of 34 Chessmen, including four Queens, a standard that was introduced by The House of Staunton over 10 years ago.
The Chess Set comes with a personalized Certificate of Authenticity and an original manufacturer's plaque indicating the production number, with an adhesive backing that would allow it to be affixed to the underside of a Chess box.
Chess pieces:
The most famous of the ornamental woods, Genuine Ebony is a luxurious hardwood that is a prized for its jet black color, very fine grain and overall beauty. Genuine Ebony is considered to be the quintessential Chess set by Chess collectors that appreciate the purity of the White army versus the Black army on the 64-square battlefield.
Chessboard:
The 23.5" Superior Traditional Elm Burl / Bird's Eye Maple wooden Chessboard with 2 3/8" Squares features Elm Burl (dark) and Bird's Eye Maple (light) squares with a Elm Burl frame. This veneered Chessboard is 0.5" thick, has a satin finish and a beautiful moulded edge. Has felt pads at each corner to slightly elevate board from surface and protect from scratches.
Chess Box:
The Mahogany Premium Chess Box is lined in green billiard cloth, divided and features brass quadrant hinges and a lock & key.
Specifications:
King size: 4"
Base size: 1.875"
34 pieces
Board size: 23.5"
Square size: 2 3/8"
INCLUDES BOARD, PIECES and BOX