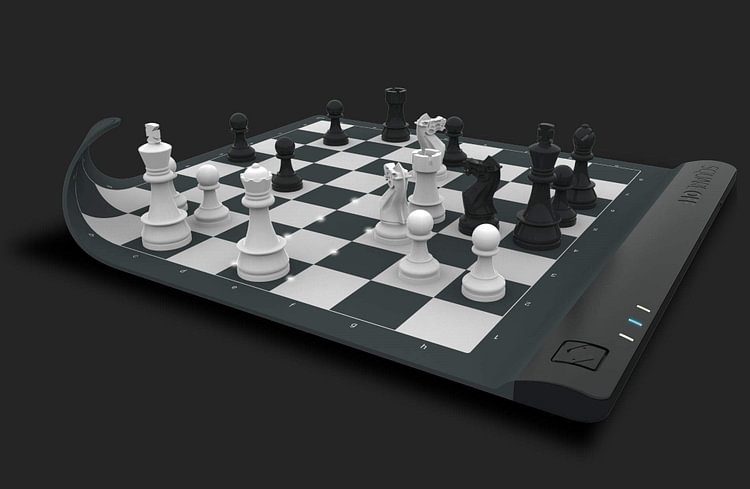 This smart chessboard that is not only AI enabled and globally connected, it also is completely rollable - a portable board game! This novel chessboard comes with interactive lighting to further enhance your experience on the board. With one-tap smartphone connectivity, you can play others across the globe. Or you can simply play against the many adaptive AI levels. The board is an ideal size for chess students as well as professionals.

With immersive app features integrated seamlessly on the board, Pro has made the world of chess exciting and thrilling and it's own unique way. Play, learn and enjoy the game on this innovative board that moves your gaming adventure up a notch!

NOTE: This Square Off design does not move the pieces on its own.
ELO Ratings:
Level 1: 800

Level 2: 900

Level 3: 1100

Level 4: 1200

Level 5: 1326

Level 6: 1360

Level 7: 1404

Level 8: 1449

Level 9: 1493

Level 10: 1550

Level 11: 1671

Level 12: 1716

Level 13: 1842

Level 14: 1983

Level 15: 2116

Level 16: 2205

Level 17: 2295

Level 18: 2606

Level 19: 3185

Level 20: 3380

What's in the box:

E-Chessboard with Magnetic sensors

Embedded Interactive Lights

34 Weighted Chess pieces

In-built rechargeable battery

USB-C charging cable
Tech Specs:
King Height: 3.75"

Battery duration : 5 hrs of continual play 

Square size: 2 inch

Overall size: 21 1/4" x 18" Surface

Board weight: 2.2lbs